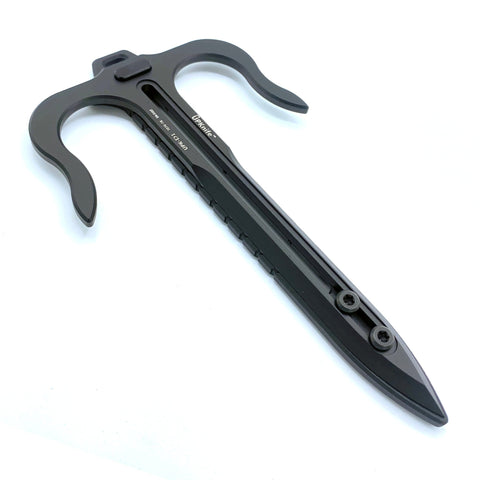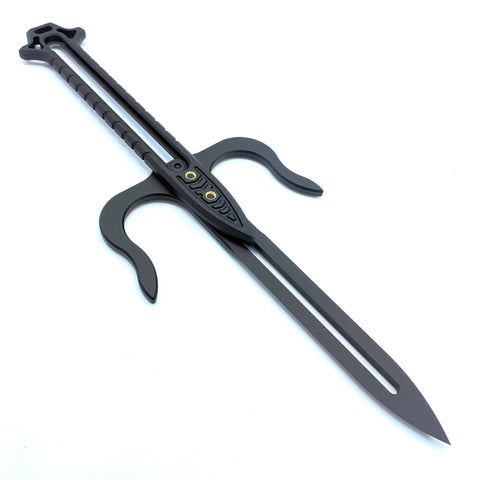 UPKnife
UPK-D1 Pocket Sai Hybrid Al-Poly
Inspired by the traditional Okinawan Sai, Pocket Sai are more practical to carry.  When closed the Handle slides to eclipse the blade's edges and point making an integrated sheath.  It's one-button locking mechanism is designed to engage automatically in the open or closed position and must be pressed to unlock it from either end.
 This version of UPK-D1 Pocket Sai has a Hard-coat 7075-T6 Aluminum Blade and a Composite Polymer Handle
Hybrid AL-Poly (Trainer)- The combo of a Hard-coat 7075-T6 Aluminum blade with a Polymer handle provides a tough Trainer Pocket Sai for practice and training at a reduced cost. A blade made in 7075-T6 Aluminum makes a tough resilient blade made for tougher tasks then a Polymer blade. This combination is a notable upgrade from the Full Polymer trainer.
Traditional Sai- The original Okinawan Sai is a defensive melee weapon optimized for non-lethal techniques used by Okinawan police of feudal Japan to control and subdue, noting that the saki(point) or yoku(prongs) offer pointed tips that could be used for more lethal strikes.  I shaped the monouchi(main blade) of the Pocket Sai with beveled edges that draw to a point giving it a more ominous look and a more effective tip for its compact size.  Like traditional Sai, the Pocket Sai is without live edges, this provides better resilience to weapon-on-weapon impact.  
Material Specifications:
Blade Milled from 7075-T6 Aluminum

Hard-Coat Anodized Black

70 ksi Tensile Strength

Handle made in POLYMER

50% Glass-filled Nylon (gun frame material)
9 ksi Tensile Strength

Custom Button made in Anodized Aluminum

6061-T6 Aluminum with Red Anodize

Custom Screws made in 450 Stainless steel

Heat Treated by Age Hardening to the H900 condition HRC 45

301 Stainless Steel Springs

Cold work Hardened to a Spring Temper
Dimensions
Extended length: 11.7 inches (297 mm)
Collapsed length: 7.3 inches (186 mm)
Weight: 2.4 oz.