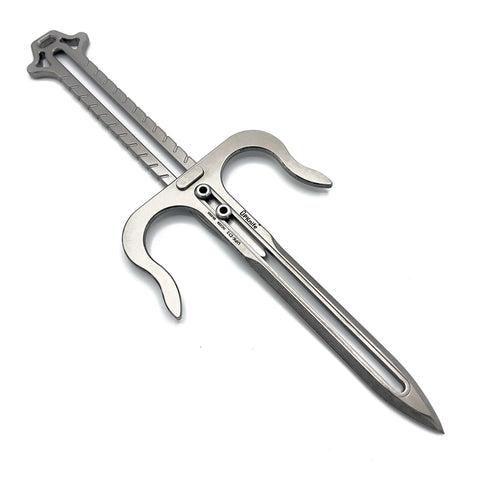 UPKnife
UPK-D1 PocketSai ULTRA
This UPK-D1 PocketSai has a n in-house USA made Blade in Sandvik 14C28N Stainless Steel with a Traditional 440A Stainless Steel Handle
Made in 
14C28N Stainless Steel
 with a hardness of
 HRC 61+/-1HRC
makes a tough resilient stainless with great hardness. It can take
extreme abuse with uses as a  prybar or hammer well within its capabilities
.
EDC Defensive Implement
PocketSai self-sheathing making them easy and safe to carry
Inspired by the traditional Okinawan Sai
Retractable Blade automatically Locks at either position (open/closed)
What's Included
x1 PocketSai ULTRA
Material Specifications:
Blade Milled in-house (US Made) from Sandvik 14C28N Stainless Steel

Heat Treated w/ Cryo HRC 61+/-1HRC
Blade Differential heat treated for toughness 

Handle made in 440A Stainless Steel 
Custom Hardware(Button and screws) made in 450 Stainless steel

Heat Treated by Age Hardening to the H900 condition HRC 45

301 Stainless Steel Springs

Cold work Hardened to a Spring Temper
Dimensions:
Extended length: 11.7 inches (297 mm)
Collapsed length: 7.3 inches (186 mm)
Weight: 8 oz.
Important Read:
Designed with inspiration from the Okinawan Sai, to be a defensive melee weapon that would be more practical to carry and self-sheath.  The Handle slides to eclipse the blade's edges and point making an integrated sheath.  It's one-button locking mechanism is designed to engage automatically in the open or closed position and must be pressed to unlock it from either end.